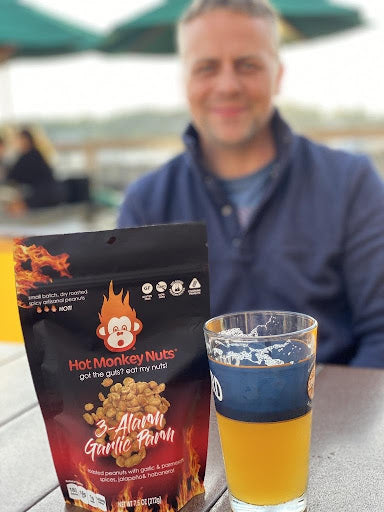 Hot Monkey Nuts was created out of a craving for snacks that were not only spicy, but that tasted good too.  For so long, I searched for that perfect go-to snack while sitting at my desk at work. I started with Atomic Fireballs, but they got in the way of answering the phone without sucking on my own spit- not very good for making a good impression on clients.  I poured tabasco on top of individual pretzels and Cheez-Its, which was better than nothing, but it was kind of messy. 
 I got some free habanero powder on one of my hot sauce orders and decided to mix it into some cocktail peanuts along with some parmesan cheese.  The concoction turned out pretty good for what it was, but I knew the flavor could be improved.  Even though I'm a pepper-head, I hold flavor as a necessity above all else.  It's easy to make something spicy, but to make it taste good, now that requires talent. 
This is where my culinary chops came in handy.  I have an uncanny ability to know when a dish is missing an ingredient or just needs that something extra to make it pop.  When a recipe calls for garlic-I add twice as much garlic! 
One of my favorite foods growing up was garlic knots- that blend of garlic and parmesan cheese, herbs and olive oil- YUM! We buy fresh bread dough and make garlic knots often- usually making a double batch because they are seriously a hit in my house. So, my first recipe of flavored spicy (let's add the word artisanal in there just to make them sound fancy) peanuts was a mixture of garlic powder, parmesan cheese, habanero and parsley.  I have since tweaked the recipe to, I have to say myself, perfection!  My coworkers thought the same thing, too.  My desk felt like Grand Central Station with the number of passers-by.  Some brought water bottles- addicted to the flavor-but needed to douse with water occasionally.  One coworker came with his own handkerchief to wipe down his balding head, knowing from experience that a handful would cause an all too familiar tingling sweat to break out on the crown of his head.  Despite having to bring reinforcements along, they still came back for more. I knew I had a hit on my hands, it just took some time for me to get the courage to show my nuts out in public, so to speak.  But that's a story for another day.
So, Garlic Parmesan Hot Monkey Nuts, now known as 3-Alarm Garlic Parm, was only the first of my 9 Hot Monkey Nut flavors AND it is still my favorite! 
Eat My Nuts!
Greg