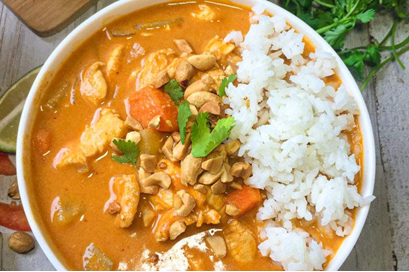 Spicy Recipes using Hot Monkey Nuts
Hot Monkey Nuts are not just great snacks that can be taken everywhere you go; they can also be used as an ingredient when preparing your own home cooked meals.  Here are some devilishly tasty meals we think you'll enjoy.
Spicy Thai Peanut Curry Recipe
Servings
2
Preparation Time
15 min
Total Time
35 min
Cook Time
20 min
Ingredients:
1 tablespoon peanut oil or olive oil
2 boneless skinless chicken breasts, diced (substitute 2 blocks firm tofu or 2 large sweet potatoes for a vegetarian preparation)
1 bunch green beans, cut into bite-size pieces
1 red bell pepper, diced
1 4-ounce can Thai red curry paste
½ cup or more of Curry Up! I'm On Fire flavored peanuts, plus more for garnish
1 teaspoon ground cumin
1 teaspoon ground coriander
¼ teaspoon cayenne pepper
1-inch piece fresh ginger, grated
2 cloves garlic, minced
1 5.5-ounce can coconut milk
1 cup low-sodium chicken broth (substitute water if vegetarian)
1 tablespoon fish sauce (or substitute soy sauce if vegan version; tamari if gluten-free)
1 tablespoon brown sugar
1 tablespoon freshly squeezed lime juice
Chopped Thai basil, cilantro, and/or thinly sliced green onions, for garnish
White or brown rice or cauliflower rice, to serve
In a large wok or Dutch oven over medium-high heat, sauté chicken until just cooked, about 5 minutes. Remove chicken and set aside. 
Add green beans and bell pepper and sauté until lightly browned in some places, about 4 minutes. Remove veggies and set aside. 
Make the curry paste. In the bowl of a food processor, combine curry paste with the peanuts, cumin, coriander, ginger, and garlic and process into a slightly chunky paste. 
In a large wok or Dutch oven over medium-high heat, warm coconut milk, constantly stirring until the mixture thickens, about 5 minutes. 
Add the curry paste and stir to combine. Slowly pour in the chicken broth, stirring constantly. Continue to cook the curry sauce until the fat separates (you should see a red oil float to the surface), and the sauce is very aromatic. 
Add fish sauce and brown sugar and stir to combine. Add cooked meat and veggies and stir to coat with sauce. Reduce to medium heat and cook until flavors have melded, about 5 minutes. 
Remove from the heat and stir in the lime juice. Garnish with herbs and serve with a side of rice.
Spicy Jamaican Peanut Drops
What Is a Peanut Drop?
Peanut drop is a delicious sweet Jamaican snack. It is made with peanuts and turbinado sugar. These drops resemble peanut brittle a lot and are delicious and chewy. You can call peanut drops a distinct cousin of coconut drops. The procedure is almost similar.
Ingredients:
Course: Dessert
Cuisine: Jamaican
Difficulty: Easy
Servings
12
Preparation time
5 minutes
Cooking time
30 minutes
Calories
350 kcal
Ingredients:
2 cups Jamaican Me Sweat Flavored nuts (1-7.5oz bag)
3 cups dark sugar
1 cup water
Directions:
Boil water on high then and add sugar
Add peanuts
After water has evaporated turn off the heat
Place a sheet of parchment paper on table then use the spoon to scoop out the peanuts and place on the sheet
The peanuts should be about 1 inch to 2 inches apart 
Let the peanuts cool for 30 minutes
Spicy Beef Suya
Beef Suya is a Nigerian street food presented at it's best: Skewers of spiced, nutty, smoky, charred beef, served with raw onions, cilantro, lettuce, and freshly squeezed lime juice.
Ingredients:
1 cup Hot-Winged Reaper or Nacho Momma's Nuts flavored peanuts
1 tablespoon paprika
2 teaspoons onion powder
2 teaspoons ground ginger
1 teaspoon crushed red pepper flakes
1 teaspoon garlic powder
1 beef tri-tip roast or beef top sirloin steak (2 pounds), thinly sliced against the grain
2 tablespoons canola oil
1 teaspoon salt
1 medium onion, cut into wedges
1 large tomato, cut into wedges
Fresh cilantro leaves
Directions
Place peanuts in a food processor; process until finely chopped. Add paprika, onion powder, ginger, pepper flakes and garlic powder, pulse until combined.
Place beef in a large bowl or shallow dish. Drizzle with oil; sprinkle with salt. Toss to coat. Add peanut mixture; turn to coat. Refrigerate, covered, for 2 hours. Drain beef, discarding marinade.
Thread beef onto metal or soaked wooden skewers. Grill, covered, over medium-high heat until beef reaches desired doneness, 10-15 minutes, turning occasionally. Serve with onion, tomato and cilantro.
 Funky Monkey Spicy Rice Krispies Treats
Ingredients:
1 package (10 ounces) miniature marshmallows
3 tablespoons canola oil
1-1/2 teaspoons banana extract, optional
5 cups Rice Krispies
1 cup dried banana chips, chopped
1 package (10 ounces) peanut butter chips
1 cup Cinnamonkey flavored peanuts, coarsely chopped, divided
In a microwave or a large saucepan over low heat, melt marshmallows, oil and, if using, extract; stir until smooth. Remove from heat; stir in cereal, banana chips, peanut butter chips and 1/2 cup peanuts. Press mixture into a lightly greased 13x9-in. baking pan, using waxed paper or a lightly greased spatula; press remaining 1/2 cup peanuts on top. Cool to room temperature. Cut into bars.
Georgia Peanut Pie with Peanut Butter Crust and Brown Sugar-Bourbon Whipped Cream
This pie is the perfect mix of sweet and salty. With a cookie-like peanut butter crust, gooey peanut butter filling, and salty cocktail peanuts, this pie is a Georgian's dream. It's even topped with Brown Sugar-Bourbon Whipped Cream. This peanut pie will impress even the most stubborn relatives you entertain this holiday season.
Ingredients:
Peanut Butter Crust

• 1 1/4 cups all-purpose flour
• 1/4 cup Cinnamonkey Spice flavored peanuts
• 2 teaspoons light brown sugar
• 1/2 teaspoon kosher salt
• 5 tablespoons cold unsalted butter, cubed
• 2 tablespoons creamy peanut butter
• 1 tablespoon cold shortening, cubed
• 4 to 6 tablespoons ice water

Peanut Butter Filling
• 1 1/4 cups packed light or dark brown sugar
• 1 tablespoon all-purpose flour
• 1/4 teaspoon kosher salt
• 1/2 cup unsalted butter, melted
• 3 large eggs
• 1/3 cup evaporated milk or half-and-half
• 1/3 cup sorghum syrup, pure cane syrup, or dark corn syrup
• 1/2 teaspoon vanilla extract
• 1/2 cup creamy peanut butter
• 1 1/2 cups cocktail peanuts or dry-roasted salted peanuts

Brown Sugar-Bourbon Whipped Cream
• 1 cup cold whipping cream or heavy cream
• 2 tablespoons light brown sugar
• 1 tablespoon (1⁄2 oz.) bourbon
• 1/2 teaspoon vanilla extract


Directions

• Step 1
Prepare the Peanut Butter Crust: Combine flour, peanuts, brown sugar, and salt in bowl of a food processor; process until peanuts are ground and mixture is combined. Add butter, peanut butter, and shortening, and pulse until mixture resembles small peas, 10 to 12 times. Sprinkle 4 tablespoons ice water over top of mixture. Pulse 4 times. Add up to 2 more tablespoons of water, 1 tablespoon at a time, pulsing after each addition until dough just begins to clump together. Remove dough from processor; shape and flatten into a disk. Wrap disk in plastic wrap, and chill 2 hours or up to 2 days.

• Step 2
Preheat oven to 375°F. Place chilled dough disk on a lightly floured piece of parchment paper. Sprinkle dough with flour. Top with another piece of parchment paper. Roll dough into a 13-inch circle. Remove and discard top sheet of parchment. Starting at 1 edge of dough, wrap dough around rolling pin, separating dough from bottom sheet of parchment as you roll. Discard bottom sheet of parchment. Place rolling pin wrapped with dough over a 9-inch (1 1/2-inch-deep) glass pie plate. Unroll dough, and gently press it into pie plate. Trim dough, leaving 1/2-inch overhang; fold edges under, and crimp.

• Step 3
Prepare Peanut Butter Filling: Stir together brown sugar, flour, and kosher salt in a large bowl. Stir in melted butter. Whisk eggs well in a medium bowl; whisk in milk, sorghum, and vanilla. Add peanut butter, whisk until blended. Add peanut butter mixture to brown sugar mixture and stir until combined. Spoon filling into prepared piecrust. Sprinkle peanuts over top, and place pie on a rimmed baking sheet.

• Step 4

Bake in preheated oven 10 minutes. Reduce oven temperature to 350°F and bake until puffed and golden brown and until center is set, 45 to 55 minutes, shielding edges with aluminum foil to prevent overbrowning, if necessary. Transfer pie to a wire rack, and cool completely, about 2 hours.
• Step 5

Prepare the Brown Sugar-Bourbon Whipped Cream: Using chilled beaters and a large, chilled bowl, beat whipping cream with an electric mixer on high speed until thickened, about 2 minutes. Add sugar, and beat until stiff peaks form, about 2 minutes. Add bourbon and vanilla and beat until well combined. Cover and chill until ready to serve.

Original Recipe can be found on Southernliving.com